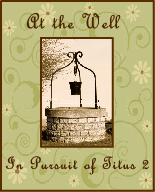 I tried to do this blog yesterday, but I just deleted everything I had written. Yesterday I didn't even feel qualified to be called a parent, let alone write about it. Today, I'm getting a jump on this before the kids wake up. In the morning I have vision, I have motivation. I can see how our day is going to go. Does it generally go that way? No. But isn't the thought (and effort) what counts? My intentions and heart are right, sometimes it just gets lost in the real life aspect of our day. When chores are done sloppily or not done at all, when the kids not only don't do what I say but fail to even acknowledge that I spoke, when everyone's things are everywhere...but where they belong. That's when that vision and motivation get lost...in the infinite clutter. Physical clutter as well as emotional and mental clutter.
Here are the things that are important though:
:
LOVE
--
1 Corinthians 13:13-And now these three remain: faith, hope, and love. But the greatest of these is love.
Love won't do it all, or parenting would be the easiest job of all, but love is the first, necessary essential in parenting...now, here's the catch:
1 Corinthians 4-8a-Love is patient, love is kind. It does not envy, it does not boast, it is not proud. It is not rude, it is not self-seeking, it is not easily angered, it keeps no record of wrongs. Love does not delight in evil but rejoices with the truth. It always protects, always trusts, always hopes, always perseveres. Love never fails...
That is where it gets tricky. I often forget that love isn't just what you feel for your children (or anyone else for that matter) but what you choose to do for them. It's easy to say you love someone...but am I being rude? self-seeking? patient? kind?
:
TRAINING
Proverbs 22:6-Train up a child in the way he should go and when he is old he will not depart from it.
Training though is not as easy as it sounds (trust me I know...)Training is day in and day out. It's not just spanking or disciplining a child when s/he has done wrong. It involves so much more. It's teaching self-discipline, talking with your child about right and wrong, Biblical reasoning is also very important-it's not just us they need to obey and realize they will be disciplined by...Training is a 24/7 thing. All the time. Even when you're tired. Even when you're sick. Even when you just plain don't want to. (I must put in a disclaimer here: I was much better at this as a mom of 2 than I am of a mom of 3...better get a handle on that before I'm the mom to 4, huh?)
:
TEACHING
Deuteronomy 11:19-
Teach them to your children, talking about them when you sit at home and when you walk along the road, when you lie down and when you get up.
Wow, that involves a lot of the day! when you sit, when you walk, when you lie down and when you get up! That's...all the time! Proverbs 1:8-
Listen, my son, to your father's instruction and do not forsake your mother's teaching.
Now for my family that means homeschooling. I was called to it (believe me, it's the only way I could persevere in it...there are days when I'd love to throw in the towel, but it's more pleasant to do something difficult than to live outside of God's will...been there, done that, no fun!).
And sacrifice. This might mean money (we are a one income family that sometimes struggles to get by because my career pays very little monetary reward, oh wait, it pays no monetary reward!), time (we rarely have time without the kids), vanity (you think I like these stretch marks I sport?), sleep (I've slept through the night about three times in the last 2 years).....and the list could go on and on.
I forgot one...lots of time "on the knees". Prayer. This is one that I often put last and if I'd put it first...my life would be so much smoother and easier! :)
Believe me, I haven't got it all down. This post was for me. Maybe my next post should be on godly womanhood. Something I need lots of work on in order to truly be a godly wife and mother!